!WELCOME TO THE 2021 DEER HUNTER'S ROUNDUP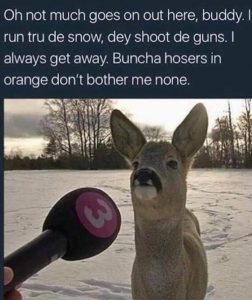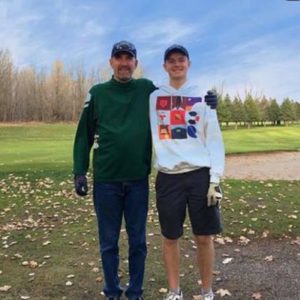 Your Host – Joel Karnick (with son Blake)
2021 Show Schedule
Saturday, Nov. 20th 6pm to 8pm
Sunday, Nov. 21st 6pm to 8pm
Monday, Nov. 22nd 6pm to 8pm
Tuesday, Nov. 23rd 6pm to 8pm
Wednesday, Nov. 24th 6pm to 8pm
Friday, Nov. 26th 6pm to 8pm
Saturday, Nov. 27th 6pm to 8pm
2020 Show Archives
Saturday, Nov. 21st……6pm to 8pm (Listen HERE)
Sunday, Nov. 22nd …….9pm to 10m (Listen HERE)
Monday, Nov. 23rd……6pm to 8pm (Listen HERE)
Tuesday, Nov. 24th…….6pm to 8pm (Listen HERE)
Wednesday, Nov. 25th……6pm to 8pm (Listen HERE)
Friday, Nov. 27th 6pm to 8pm (Listen HERE)
Saturday, Nov. 28th……6pm to 8pm (Listen HERE)
2019 Show Archive
Saturday Nov. 23rd……6pm to 8pm (Listen to Show Here)
Sunday, Nov. 24th………3pm to 5pm (Listen to Show HERE)
Monday, Nov. 25th………6pm to 8pm (Ladies Night) (Listen to Show HERE)
Tuesday, Nov. 26th………6pm to 8pm (Listen to show HERE)
Wednesday, Nov. 27th………6pm to 8pm (Listen To Show HERE)
Friday, Nov. 29th…………….6pm to 8pm (Listen to Show HERE)
Saturday, Nov. 30th…………….6pm to 8pm (Listen to Show HERE)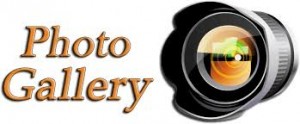 2021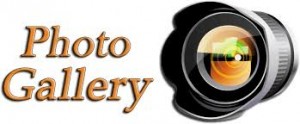 2020
36 Point Buck?   It's True!  See Story HERE
See The Story of the 19-point Buck!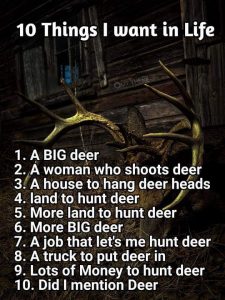 Barbecued Stuffed Pigeon :
 Mix together the following stuffing:
STUFFING:
1 cup of bread crumbs
¼ tsp. Oregano
1 cup chopped onion
1 T. chopped parsley
¼ cup grated Parmesan cheese
¼ lb. melted butter
¼ tsp. pepper
2 eggs
¼ light dry wine
Stuff 4 pigeons. Close cavity by sewing or tacking to hold in dressing. Wrap a thick slice of bacon around each bird. Run all for birds on a skewer, place over hot coals, turn with a motor or by hand. Baste often with melted butter and lemon juice. Tender birds should be ready to serve in about 45 mins.
Camp Liver and Tongue :
 Camp Liver and Heart :
Liver and Heart
bacon
salt and pepper
flour
chopped onions
water
Cut the liver and heart into strips about ½ in. thick. Salt and pepper to taste, then coat with flour. Let stand a few minutes. Rake some coals from the fire and cook the bacon until crisp in a camp frying pan. Set bacon aside to drain. Brown the liver and heart in very hot bacon drippings. Set aside to drain. Add chopped onions and cook about 5 mins. Crumble the bacon and add onions. Add liver and heart, then slowly add just enough water to cover the meat. Cover the frying pan, reduce heat ( by raking away some coal, if necessary) and simmer for 30 mins. Stir from time to time. Thicken the gravy with a little flour and add more salt and pepper if desired. Can be made in the oven too.
Big Game Liver :
Wash and skin liver, cut into inch thick slices. Start bacon in a fry pan over very slow fire, and in another fry pan add oil to at least ½ in. depth. Heat oil, salt and pepper liver slices, pat in flour and fry until golden brown in hot oil. Drain, place on warm platter and top each with a slice or more of bacon and serve.
Tongue :
Tongue is a less tender variety of meat and requires long slow cooking in liquid. To cook, cover tongue with water. When cooking fresh tongue, add 1 tsp. salt to each quart of water. Cover tightly; simmer tongue 3 to 4 hours, Drain: plunge tongue into cold water.
Peel skin from tongue, cut away roots, bone and cartilage.  Can be served hot or cold.
Moose Tongue :
1-4 lb. Tongue- precooked until almost tender
2 cans tomato soup
1 (soup) can water
1 large onion (diced)
1 green pepper (diced)
salt and pepper to taste
1 T. sugar
¼ piece small hot red pepper, crumbled (can use red pepper flakes)
1 clove garlic
½ tsp. chili powder
½ lb. Mushrooms
Saute onion, celery, green pepper, add tomato soup and water. Add mushrooms and simmer 5 mins. Peel and slice tongue (precooked as above) Brown lightly in hot fat, then add sauce and simmer approximately 1 ½ hours.
Quick Crock Pot Venison Roast
from Bill, Randy and Jim at Phillips Ford
1 Medium Roast
4 Potatoes chopped
1 lb. carrots
1 large onion
1 brown gravy mix
Throw it all in a slow cooker for 6 to 7 hours, salt and pepper to taste.   Delish!