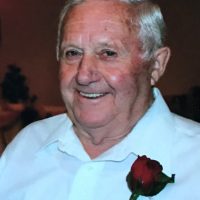 William (Bill) Wartgow Jr., age 88, of Park Falls, passed away on Thursday, December 13, 2018, with his loving wife, Nettie, and family by his side after fighting a courageous battle with cancer.
Bill was born May 13, 1930, in Butternut, WI, the oldest of six children of William Sr. and Ella (Scherwinski) Wartgow.  He married Jeanette (Nettie) Hilgart in Park Falls, WI on August 18, 1951. They resided in their home in Park Falls where they raised four children, Dennis (Cathy) Wartgow, Patricia (Michael) Buraglio, Robert (Elizabeth) Wartgow, and Gary (Jodi) Wartgow.
Bill enjoyed hunting, gardening, polka music, making maple syrup, reading, and spending time with family at "the shack" on their property in Butternut. He worked as a logger and was a self-employed pulp truck driver until his time of retirement.  Bill will always be remembered for his quick wit, signature grin, and sense of humor even through his most challenging times. Above all, he will be remembered for his faith, love of family, independence, incredible work ethic, and the unwavering support and care he provided his wife, Nettie, over the past several years while battling his own illness. Bill loved people and will be deeply missed by his family and many friends.
He is survived by his wife, Nettie, their 4 children, 12 grandchildren, 11 great grandchildren, and two baby girls arriving in January and April of 2019. Also surviving are his siblings Carol (Myles) Bruch, Don (Arlene) Wartgow, Nancy (Clem) Dippel, Roger (Jean) Wartgow, sisters-in-law Avis McKuen and Ginger Behreandt, brother-in-law Mickey (Mary) Hilgart, several cousins, nieces, nephews, and many special friends.
Preceding him in death were his parents, parents-in-law Michael and Eva Hilgart, brother Wayne Wartgow and sister-in-law Ona Wartgow.
A Celebration of Life service for family and friends will be held at 10:30 a.m. on Saturday, December 29, at Peace Lutheran Church in Park Falls.  Honoring their 67 years of marriage, it is the wishes of both Bill and Nettie that a private joint internment at Nola Cemetery will take place WHEN Nettie joins her beloved partner, Bill, in heaven.  In lieu of flowers, the family requests memorials to Peace Lutheran Church. Online condolences can be made through Nash-Jackan Funeral Home in Ladysmith, WI.  The family wishes to thank the staff at Park Manor, Flambeau Home Health and Hospice, and Supportive Home Services for the excellent care and compassion shown to Bill during his final weeks.