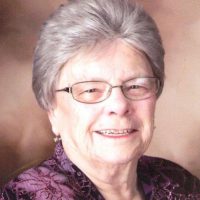 Dolores Mary (Breit) Holoubek, 87, was born January 7, 1931, in St. John, Wisconsin.  She died on Sunday, December 23, in the aspires Pleasant View Nursing Home in Phillips while under the care of Flambeau Home Health and Hospice.  She spent her early life in St. John, and later the family made their home in Chilton, Wisconsin.  She attended Chilton High School and lived in Chilton until the time of her marriage.  She married Laddie Holoubek on September 2, 1952, at St. Mary's church in Chilton, and they made their home in Phillips, Wisconsin.  She was certified as a beautician by Sheboygan Vocational Technical Institute.  She owned and operated a beauty salon in their home.  She was a member of the Czechoslovakian community singers, the Catholic Council of Women, and the Catholic Daughters.  She was very active in the annual community Czechoslovakian Festival.  She participated in Knights of Columbus corporate breakfasts as a cook and server.  She was a member of St. Mary's Catholic Church and now of St. Therese of Lisieux Catholic Church.  She served as Eucharistic Minister for many years.  She was a member of the Ladies Auxiliary of the Phillips American Legion Post 122.
She is survived by Laddie, her husband of 66 years; by three children, Peggy Sue (Ed) Hainy, Phillips, Kevin Holoubek, Phillips, and Bruce (Coreyne) Holoubek, Verona; by four grandchildren, Jason and Jennifer Hainy, Carmelitta and Melinka Holoubek; by one sister, Adela (Stanley) Holoubek, Phillips, and many nieces and nephews.  She is preceded in death by one grandson, Bryant Hainy; by one sister, Rita (Elmer) Eichmeier; and by her parents, Mathew and Catherine (Denzel) Breit.
Visitation will from 9:30 A.M. A.M., with funeral services following at 11:00 A.M., on Friday, December 28, at St. Therese of Lisieux Catholic Church in Phillips, with Father Gerald Hagen celebrating the Funeral Mass.  Interment will be in St. Patrick's Cemetery in Phillips.
Online condolences may be expressed at www.heindlfuneralhome.com
The Heindl Funeral Home in Phillips is assisting the family with funeral arrangements.