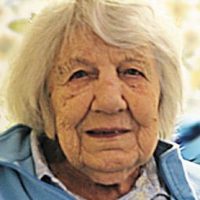 Anna Balzer, age 107, of Park Falls, died on Sunday November 17, 2019 at Park Manor Nursing in Home in Park Falls.  She was born on April 4, 1912 in Park Falls, the daughter of Joseph and Anna (Pluhar) Chizek.  On August 25, 1934 she married Harry Blazer in Park Falls.  Anna was a baker in the kitchen at the Park Falls High School for many years.  She was a member of the Park Falls Congregational Church and enjoyed gardening, canning, and berry picking.  Anna was also an avid seamstress and a fantastic baker.
She is survived by:
(2)grandsons:
Dan (Jeannie) Gustafson of Chippewa Falls
John (Lori Amstadt) of Wausau
(4) great-grandchildren:
Johnathan, Andrew, Thomas, and Madeline Gustafson
And many nieces, nephews, and other relatives and friends.
She was preceded in death by her parents, her husband Harry, her daughter Pauline Gustafson, her son-in-law James Gustafson, and (7) brother and sisters: Mary Balzer, Jim Chizek, Joe Chizek. Vera Galt, Sophie Malone, Rose Chizek, and Lad Chizek.
Funeral services will be held at Birch Street Funeral Service (formerly Novitzke Funeral Home) on Wednesday November 27, 2019 at 11:00am.  Rev. Donald Quigley will officiate.
A visitation will be held at the funeral home on Wednesday November 27, from 10:00am until the hour of the service.
Interment will take place at Nola Cemetery.
Novitzke-Birch Street Funeral Service is assisting the family.