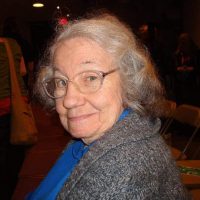 Elsie Jean Balzar, age 88, of Fifield, died on Sunday November 24, 2019 at Park Manor Nursing Home in Park Falls.  She was born on November 23, 1931 in Richland County, the daughter of Thomas and Leona (Buroker) Doudna.  After graduating high school, Jean earned her bachelor's degree in nursing at Methodist Hospital in Madison.  On September 27, 1952 she married James Balzar in Sextonville.  The couple lived in Columbus for five years and then moved to Fifield.  Jean worked as a nurse at Flambeau Hospital and Park Manor Nursing Home.  She enjoyed gardening, knitting, and spending time with her family.  There was always a full house during the holidays.
She is survived by:
(8)children:
Rollin Balzar of Oshkosh
Toni Balzar of Fifield
Randy (Betty Jo) Balzar of Neenah
Rodney (Mary) Balzar of West Bend
Rory (Sheila) Balzar of North Branch, MN
Rocky Balzar of Park Falls
Rolf (Karren) Balzar of Fifield     ——(spelling of Karren with two "r's" is correct as is the spelling of Rolf)
Richard Balzar of Oshkosh
(16)grandchildren, (11)great-grandchildren
Her sister Mary Ruth (Harold) McCoy of Richland Center
(2)sisters-in-law:
Marilyn Doudna of Richland Center
Mary Ann Schmitt of Prentice
She was preceded in death by her parents, her husband James in 2004, an infant son James Joseph, and (6)brothers and sisters.
Funeral services will be held at the Novitzke-Birch Street Funeral Service Chapel in Park Falls on Saturday November 30, 2019 at 11:00am.  Rev. Carol Gabrielson will officiate.
Burial will follow at Forest Home Cemetery in Fifield.
A visitation will be held at the funeral home on Saturday from 10:00am until the hour of the service.
Memorials to the Flambeau Hospital Auxiliary would be greatly appreciated.
Novitzke-Birch Street Funeral Service is assisting the family.