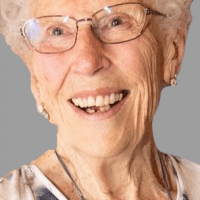 Frances "Fran" Lucille (Haun) Neuberger passed away peacefully at Park Manor in Park Falls on November 22, 2019.  She was 91. Fran was born September 29, 1928.  She was one of five children born to George and Anna (Kronberger) Haun, and her early life and schooling were in Butternut.  She met her husband Edward "Ed" George Neuberger at a dance, and they were married on June 26, 1946.  She and Ed homesteaded a dairy farm north of Butternut.  They had the last of their six children in 1967.  Fran began working as a health and special education aide at the Glidden School that same year and enjoyed her work there for over 30 years.  She moved from her farm to Flambeau Heights in Park Falls in 2007 and leaves behind many friends that were made during her time there.  She loved reading, a good Western movie, and spending time with her family.
She is survived by:
(6) children:
Carol (Jim) Neuberger of Woodruff
Joseph (Mary) Neuberger of Green Bay
Elaine (Paul) Kallinen of Iron River
Marilyn Hanson of Park Falls
Nick (Julie) Neuberger of Chetek
Edward (Linda) Neuberger of Lodi
Her brother Jim (Agnes) Haun of Sparta
Fran had (13) grandchildren and (7) great-grandchildren – each one special in their own way, according to her – and she loved them all unconditionally.  As a result, they all think they're her favorite, and the debate will continue even after her passing.  She is further survived by many nieces, nephews, and other relatives and friends.  She was preceded in death by her parents, her husband Edward in 1995, (2) brothers: John and Art Haun, and (2) sisters: Ida Woody and Bertha Romanowich.
Funeral services will be held at Immaculate Conception Catholic Church in Butternut on Tuesday, November 26, 2019 at 11:00am. Fr. Shaji Pazhukkathara will officiate.
Interment will follow at St. Cecelia Catholic Cemetery in Butternut.
A visitation will be held on Monday, November 25, 2019 at the church from 5:00pm until 7:00pm with a vigil service at 7:00pm and on Tuesday from 10:00am until the hour of the service.
Novitzke-Birch Street Funeral Service is assisting the family.