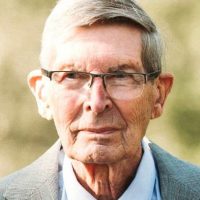 Robert (Bob) Hammerstrom, 87, of Flower Mound, TX and formerly of Phillips,
WI passed away on November 23, 2019 after a sudden illness.
He was born on November 12, 1932 in Sioux City, IA to parents Abel
Hamerstrom and Laura (Henningfield) Hamerstrom.  He spent his early life and
schooling in Prentice and Phillips, WI.  He graduated in 1950 from Phillips
High School.
On August 13, 1955, he married Anna Marie "Tike" Schilling at St. Patrick
Catholic Church in Phillips.
For many years he was employed by Gambles Hardware Store and managed stores
in Michigan, Minnesota and Wisconsin.  In 1965, he relocated his family back
to Northern Wisconsin where he owned and operated the Ben Franklin stores in
Park Falls and Phillips.
Bob and Tike moved to Flower Mound, TX in 2000, where he worked as a custom
picture framer at a local craft store.
He is survived by his wife of 64 years, his children Laura (Tom) Hardzinski
of Flower Mound, Mike (Teri) Hammerstrom of Phillips, and Rob Hammerstrom of
Flower Mound.  He is also survived by seven grandchildren and twelve great
grandchildren.
He was preceded in death by his parents as well as four infant children.
Services will be held at 11:00 a.m. on Thursday, December 5, 2019 in
Phillips, WI at St. Therese Catholic Church with visitation preceding the
service at 10:00 a.m.  Burial will follow at St. Patrick's Cemetery in
Phillips.
Online condolences may be expressed at www.heindlfuneralhome.com
The Heindl Funeral Home in Phillips is assisting the family with funeral
arrangements.