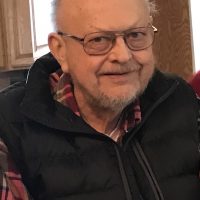 James Robert Wegner, age 72, of Butternut, died on Tuesday December 3, 2019 at Flambeau Hospital in Park Falls.  He was born on April 11, 1947 in Park Falls, the son of Robert and Eva (Holt) Wegner.  He was a graduate of the Butternut High School and then attended UW Stevens Point, earning a bachelor's degree in Forestry.  On August 9, 1969 he married Virginia Jarocki in Thorp.  James worked as a manager for Shopko for 5 years, worked for General Business Services, then owned Business and Tax Services.  Later he sold real estate for Coldwell Banker and First Weber.  James was a member of the Park Falls Lions Club and enjoyed hunting, fishing, the Hodag Country Music Festival and spending time with family.
He is survived by:
His wife Ginny of Butternut
(2)daughters:
Pamela (Steven) Buckwalter of Tomahawk
Brenda (Jerry) Ernst of Park Falls
(4)grandchildren:
Gillian, Noah, Chloe, and Samuel
his sister Gail Butts of Park Falls
and many nieces, nephews, and other relatives and friends.
He was preceded in death by his parents.
A Funeral Mass will be offered at Immaculate Conception Catholic Church in Butternut on Saturday December 7, 2019 at 11:00am.   Fr. Shaji Pazhukkathara will officiate.
A visitation will be held at the church on Saturday from 10:00am until the hour of the service.
Interment will take place at a later date at St. Cecelia Catholic Cemetery in Butternut.
Novitzke-Birch Street Funeral Service is assisting the family.