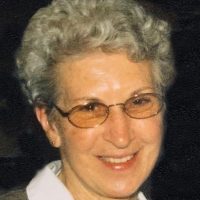 Mary Catherine Warga, 87, Phillips, passed away on Monday, December 2, 2019, at the Aspirus Pleasant View Nursing Home in Phillips.  She was born on June 17, 1932, in Rib Lake, WI to Charles and Emily (Kiska) Polacek.  She attended the Fawn Valley School and Rib Lake High School, leaving with her family in 1948 when they moved to Phillips.  She graduated from Phillips High School in 1950.  She was married to Steve Warga on June 24, 1950, in Saint Mary's Catholic Church in Phillips.  They farmed the family farm until 1957. She was a member of Saint Therese of Lisieux Catholic Church of
Phillips, and was a member of the Council of Catholic Women.   Mary joined
the East Highland Homemakers Club in September of 1953, and was an active
member, serving many offices and committees in the organization.   She was
also a 4H Leader.  She loved sewing, knitting, gardening, and taking care of home and yard.
She is survived by her daughters, Susan (Greg) Hawkins, Hammond, WI, and Peggy-Sazzy (Oskar Granquist) Calhoun, California and Minnesota; by four grandchildren, Alex, Jill (Chad), Hayley (Dennis), and Luke; by three great grandchildren, Colin, Natalie, and Brooke; by sister Frances (Emil) Foytik, Phillips;  and by many nieces and nephews.  She was preceded in death by Steve, her husband of 69 years, on September 20, 2019, by her parents; by brothers Thomas, Charles James, and George Polacek; by sisters Margaret Schirmer and Dorothy Olson; by brother-in-laws, Harry and Raymond; by sister-in-laws Mary and Justine and infant granddaughter, Kelley Katherine Hawkins.
Funeral services will be held at 11:00 A.M. on Friday, December 6, at Saint Therese of Lisieux Catholic Church in Phillips with Father Lourdu Raju Madanu celebrating the Funeral Mass.  Interment will be in the Saint Patrick Cemetery in Phillips.  Friends may call at the church on Friday from 10:00 A.M. until the time of Services.
Online condolences may be expressed at www.heindlfuneralhome.com The Heindl Funeral Home in Phillips is assisting the family with funeral arrangements.