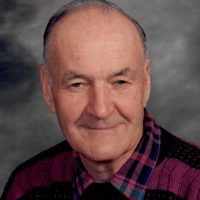 Robert Joseph Gruber, age 91, of Park Falls, died on Tuesday January 7, 2020 at Park Manor Nursing Home.  He was born, the son of William and Ella (Herbst) Gruber on June 27, 1928 on the family farm in Eisenstein.  His early life and schooling were in Eisenstein, where he also worked on the family farm.  Robert worked for the Flambeau Paper Mill in Park Falls for 39 years.  He enjoyed gardening and sharing his produce and especially loved his flower garden.  He was an avid deer hunter, berry picker and enjoyed his apple orchard.  Robert was known as "Uncle Chicken Bob" to his great-great-nieces and nephews who loved to visit him and the chickens he raised.
He is survived by many nieces, nephews, great and great-great- nieces and nephews, and other relatives and friends.  He was preceded in death by his parents, his (9)brothers & sisters: Edward Gruber, Helen Tank, Lucille Hilgart, Leonard Gruber, William Gruber, Annabel "Dolly" Abel, Eldora "Dori" Ides, Margaret "Marge" Mayers, and Marie Svehla.
A memorial service will be held at St. Anthony's Catholic Church in Park Falls on Saturday January 11, 2020 at 11:00am.  Fr. Shaji Pazhukkathara will officiate.
A visitation will be held at the church on Saturday from 10:00am until the hour of the service.
Interment will take place in the spring at Nola Cemetery in Park Falls.
Novitzke-Birch Street Funeral Service is assisting the family.