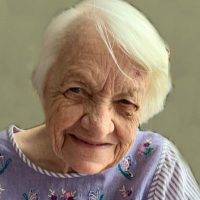 Virginia Victoria Zach, 97, of Phillips, a former Town of Emery resident, died at her daughter's home Wednesday, January 8, 2020.  Virginia was under the care of her family and Fairview Hospice in Savage, Minnesota.  She was born in Philip, South Dakota on August 3, 1922, the daughter of Charles and Anna Vich.  She was married to George Zach in Phillips, Wisconsin on September 20, 1941.  Virginia and George operated a small dairy farm in Emery until 1959, after which they moved into Phillips.  She was a homemaker and seamstress, but also worked at Louie's Café, the Phillips Nursing Home, and outside of Phillips in Rockford, IL at various times.  She was active on the altar committee and other women's groups at St. John's Lutheran Church in Phillips.  Virginia loved to garden and work outside.  She also did beautiful seamstress work, knitting, crocheting, and cross-stitch.
Funeral services will be held on Saturday, January 18, 2020 at 11:00 AM at the Heindl Funeral Home with Pastor John Trewyn officiating.  Interment will be in the Emery Cemetery in the town of Emery.  Family and friends may call at the funeral home Saturday morning for visitation at 10:30 AM until services begin.
Virginia is survived by one son, George (Linda), Wales, WI, by one daughter, Shirley (Tom) dePetra, Savage, MN, by five grandchildren, Todd Kreiling, Theresa (Kenny) Takli-Ferguson, Brenda (Jon) Thorsen, Rebecca Zach, Craig Kreiling, and ten great-grandchildren, by two sisters, Marianna Lewis, Janesville, WI, and Alice Polacek, Highlands Ranch, CO.  She was preceded in death by her husband George and one daughter, Linda, one grandson Carl, and by eight brothers and one sister.
The Heindl Funeral Home in Phillips is assisting the family with funeral arrangements.