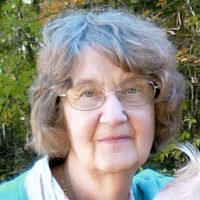 Carla M. Boettcher, age 90, of Park Falls, died on Tuesday January 28, 2020 at her home.  She was born on October 6, 1929 in Neenah, the daughter of Arthur and Olga (Kluge) Kruse.  She graduated from high school in Iola and then attended college at Waldorf and Stevens Point, earning a teaching and music degree.  On August 16, 1953 she married John F. Boettcher in Iola.  Shortly after their marriage the couple moved to Park Falls.  Carla was a music teacher and taught 5th grade.  She was the music director and an organist for Peace Lutheran Church, where she was a very active member.  She enjoyed her flower garden, baking, sewing & needle work, her Collies, and most of all spending time with her children, grandchildren, and great-grandchildren.
She is survived by:
her husband John of Park Falls
(3)children:
Dave (Mary) Boettcher of Fifield
Jean (Bill) Olson of Park Falls
Linda (Jon) Bukachek of Park Falls
(3)grandchildren: Michael Bukachek, Chris Olson, and Jeni (Justin – "Jason") Wetzel
many great-grandchildren and nieces, nephews and other relatives and friends.
She was preceded in death by her parents, her infant grandson Benjamin, and (2)brothers: Ronald and Leslie Kruse.
Funeral services will be held at Peace Lutheran Church in Park Falls on Monday February 3, 2020 at 11:00am.  Rev. Dale Heinlein will officiate.
Burial will follow at Forest Home Cemetery in Fifield.
A visitation will be held on Monday at the church from 10:00am until the hour of the service.
Novitzke-Birch Street Funeral Service is assisting the family.