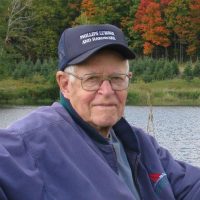 Holly Floyd Smith was born to Pearl (Henthorn) Smith and Holly Floyd Smith, Sr. on May 18, 1925, in the village of La Farge, Vernon County, Wisconsin.
He died at home January 28, 2020.  In February 1943 – as soon as his La Farge High School graduation requirements were met – he left for the Great Lakes Naval Training Center in Illinois to "join up" during WWII.  He served as a pharmacist's mate on both the east and west coasts of the U.S. and overseas in Okinawa.  He returned to the U.S. in January 1946, on the LSM170 and then home to La Farge.
Holly and Ruby (Waddell) wanted to marry upon his return from the war, but he was four months shy of 21 years old and his father would not sign the consent form needed.  So, they waited until his birthday and were married in the Viroqua Parsonage by Pastor Roy Williams on May 29, 1946.  They raised five children and celebrated 68 years together before Ruby died in 2014.
Holly's earliest work experiences were as a drayman and later a truck driver for his dad – hauling ice, coal, sand, & gravel.  He hauled fuel to the 400 Train that stopped in Elroy (later named the Twin Cities 400, a passenger train run by the Chicago and North Western Railway between Chicago and Saint Paul, with a final stop in Minneapolis).  As a young family man, he worked at the La Farge Co-op, at Overguard's Phillips 66 in Elroy, and at GM in Janesville.  He worked for many years as a Wisconsin State Correctional Officer at Waupun, Walworth, Wales, & Camp Flambeau where he retired in 1984.
After retirement, Holly and Ruby spent their summers in southern Wisconsin "earning their keep" at Conference Point Camp to be near their children and grandchildren.  The rest of the year was spent at their home of 37 years in Phillips, Wisconsin – going to casinos, visiting old friends, and making new ones.  They loved to travel and Holly loved to talk.  No matter where he went, he found someone that he had met from previous jobs or travels and struck up a conversation.  He was never a stranger.
He had a remarkable memory for dates, places, highways, and details of trips and events.  If you wanted to know the route with the most Kwik Trips stations, or a special way to reach a destination, Holly was the guy to ask.
Holly was a product of his era and the Kickapoo Valley.  He learned thrift, moderation, self-sufficiency, and he prospered.  He was a hardworking man who went to work every day to take care of his family.  He was a faithful and loving husband and father.  He was a good and loyal son, brother, grandparent, neighbor and friend.
Holly was preceded in death by his wife, Ruby, by brothers, Floyd (killed in WWII), and Myron Smith of Waupun, one sister, Phyllis Johnson (John), grandson, Richie Blakeley, and son-in-law, Ron Slocum.  He is survived by his sons Jerald (Kathy) of Holmen, Allen (Pam) of Phillips, Norman of Elkhorn, and Jeff (Jane) of Williams Bay, daughter Marilyn Slocum of Delavan, sister Berdyne (Gerry) Bray of Madison, brother Merrill of Waupun, many grandchildren, great-grandchildren, & great-great-grandchildren, and many other relatives.
Holly liked to compare gas prices wherever he went.  So, whenever you hear someone say, "Gas is cheaper there," remember Holly.