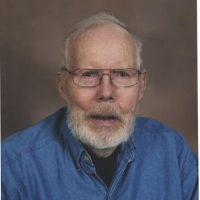 Edward Leroy Gustafson, 85, Ogema, went to be with his Lord on January 28, 2020, at the Rib Lake nursing home. He was born on May 4, 1934, in Ogema, WI, to Eddie and Alice Gustafson.  He grew up on a farm in the township of Ogema and attended Pinewood, the one room schoolhouse a short walk from home, for his early years and finished elementary school in Ogema.  After 8th grade, Leroy worked to help support his parents and siblings.
Leroy married Lynnette Henthorn on June 15, 1963, in the Ogema Baptist Church.  He bought back into the family the original Gustafson homestead where he had been born. There he and Lynnette raised their four children, while Leroy farmed and logged.
He was an active member of the Ogema Baptist Church where he served in many ways and on various boards and committees. He had a lifelong love of reading and flower gardens. After retirement, he enjoyed traveling and playing table games with his grown kids and grandkids. One of the highlights of his life was taking part in mission trips to Belize. He faithfully and generously supported missions and charities around the world.
He is survived by his three daughters, Sara Donahoe, Ogema, Laura (Keven) Blomberg, Ogema, and Debra Bosserman, Aitkin, MN; his son, William, Ogema; eleven grandchildren: August Donahoe, Jacob (Rachel) Donahoe, Alicia Donahoe, Samuel (Aimee) Blomberg, Bradley (Kelsey) Blomberg, Ellie (Brady) Korwin-Kuczynski, Bryan Blomberg, Emilie Blomberg, Jolee Bosserman, Brett Bosserman, and Kaylee Bosserman; eight great-grandchildren; two brothers, John (Deanny) and Delbert (Debbie); and one sister, Kathy (Mel) Linvik.  He was preceded in death by his wife, his parents, his brother Harold, his sister Melba Swan, and by one stillborn grandson, Dylan Bosserman.
Funeral services will be held at 3:00 p.m. on Sunday, February 9, at the Ogema Baptist Church with Pastor Rodney Price officiating.  Visitation will begin at 2:00 p.m. Interment will be in the Hillside Cemetery in Ogema on Monday, February 10, at 11:00 a.m.  Leroy's grandsons will be his pallbearers.
Online condolences may be expressed at www.heindlfuneralhome.com The Heindl Funeral Home in Prentice is assisting the family with funeral arrangements.