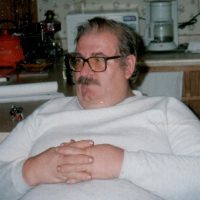 Ronald Albert "Chops" Clark-Canovan entered into God's eternal rest on February 5, 2020 at Clark County Living Center in Owen, Wisconsin where he was residing.
He was born on November 25, 1948 in Fort Atkinson, Wisconsin.  Her grew up in Park Falls, Wisconsin and graduated from Lincoln High School in 1967.  He was always interested in cooking and immediately after graduation his mother, Alice Shirley Canovan took him out to Hicks' Landing Supper Club on Sailor Creek Flowage in Fifield, Wisconsin to apply for a job.  There, he found his life's work, his nickname "Chops", and his second family.  For the rest of his life, he was a special member of the Hicks Family.
In the early years of employment, he was second chef to Erma Hicks' sister, Laurie Whiting, whom he was very fond of.  In the early 1980's, he became Head Chef.  In 1991, during the supper club's 40th Anniversary Celebration, Chops was awarded a special letter of commendation by Governor Tommy Thompson for his outstanding and loyal service as a chef.  He cooked fine dining entrees~ of steaks, prime rib, lobster, seafood and specialty items for the many customers both nationally and internationally who patronized the supper club.  These guests also included country music entertainers such as George Strait, Hee Haw's Jana Jae,  the Grand Ole' Opry's Jan Howard, Jett Williams and the Drifting Cowboys, the comedy group DA YOOPERS, and David Frizzell who commented, "you have a great chef"!
In addition to all of this, Chops was able to work with his own family, the Canovans and cousin Greg Newman who all worked at the supper club throughout many years.
Chops touched the lives of many during his life.  He loved animals and people and always had a big happy greeting for family, friends, and customers.  He was kind-hearted, caring, thoughtful, witty, jovial, trustworthy, honest, dependable, and loyal.  He especially loved Christmas and loved giving to others.
He was preceded in death by his father, Robert Clark, his mother Alice Shirley Canovan, step-father William Canovan, Newman family members, Francis and Erma Hicks, Marian Hicks- Atkinson and Laurie Whiting.  He is survived by his step-siblings William (Donna) Canovan, Janesville, WI., Betsy (Rick) Agar, Batesville, S.C., Scott (Lori) Canovan, Green Bay, WI., Kelly Nickell of Indianapolis, IN., seven nieces and nephews, one great-niece, aunts, uncles and cousins of the area Newman Family, numerous co-workers and friends, and Connie Hicks of Hicks' Landing, Fifield, WI., who will miss him dearly and always cherish in her heart.
A celebration of life will take place at Family Worship Center, Park Falls, WI., on Thursday, February 13, 2020.  A visitation will be held prior to the service from 10:00 AM – noon;  the service will take place at 12:00 noon with Pastor Terry Wilson and Pastor Stephen Kjetland officiating.  A graveside service will follow at Forest Home Cemetery in Fifield, Wisconsin with prayers by Pastor Steve Newman.  A meal of remembrance honoring Chops will take place at 2:00 PM at Kountry Kafe' in Fifield, Wisconsin.  May Chops rest peacefully in God's eternal heaven.