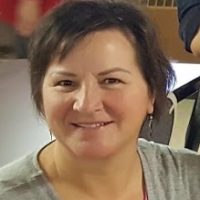 Diane M. Wagner, age 55, died suddenly and went to her eternal reward after an automobile accident Sunday March 15, 2020 while vacationing in Texas.  She was born on February 19, 1965 in Ashland, the daughter of Joseph and Patricia (Mahnke) Radlinger.  Diane was a graduate of the Butternut High School.  On July 25, 1984 she married Gregory John Wagner Sr. and through the miracle of love, found the fullness of life.  Diane was a lifetime member of Immaculate Conception Catholic Church in Butternut and was a cosmetologist and massage therapist for many years.  She loved the outdoors, was always motivated to help others, and treasured her family, especially her grandchildren.
She is survived by:
her husband Greg of Park Falls
(3)children:
Jessica (Scott) Schultz of Park Falls
Gregor Jr. (Stephanie Tapplin) Wagner of Park Falls
Rachel (Ryan) Lueloff of Park Falls
her mother Pat Radlinger of Butternut
her mother-in-law Betty Wagner of Park Falls
(5)grandchildren: Colton, Sophie, Adriana, Bennet, and Hannah
her sister Penny (Terry Wollerman) Radlinger of Park Falls
(3)brothers:
Joe D. (Linda Sohn) Radlinger of Hudson
David M. Radlinger of Butternut
John (Tammy) Radlinger of Butternut
and many nieces, nephews, and other relatives and friends.
She was preceded in death by her father Joseph Radlinger, her father-in-law Frank Wagner, and her angel grandchildren Bobette and Oliver.
A private family service will be held, and a public memorial service will be announced at a future date.
Diane will be interred at St. Cecelia Catholic Cemetery in Butternut.
Birch Street Funeral Service is assisting the family.