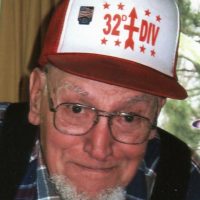 Rev, James "Jim" L. Pulham, age 91, passed away at Mellen Manor Nursing Home in Mellen on Friday, March 20, 2020. He was born December 4, 1928 at Sparta, Wisconsin to Albert and Ruby (Parr) Pulham. He grew up in the Sparta/Cataract area the oldest of ten children.
On October 15, 1951 he married Grace Olson at Black River Falls. He was active in the Army National Guard at Fort McCoy where he was a tank mechanic and was activated for duty during the Berlin Crisis in the early 1960's.
In 1965 he received a minister's license with the Wisconsin/Northern Michigan District of the Assemblies of God and was ordained in 1975. He and Grace were pastors in Assemblies of God churches at Hawthorne, Seymour, Glidden, Athens, and New Holstein, Wisconsin throughout their active years of ministry. They retired in Glidden but continued to serve as interim pastor at Ashland and Hayward. After Grace's death in 2009, he lived with his daughters and then moved to Mellen Manor Nursing Home in 2011.  Jim enjoyed gardening, a good cup of coffee, and loved his family very much.
Surviving are: four children James R. (Christine) Pulham of Athens, Enelle (Dennis) Eder of Glidden, Georgene (Larry) Ericksen of Mellen, and Garilyn (Daniel) Eder of Merrill; 9 grandchildren; 13 great-grandchildren; two brothers: Floyd (Pauahi) Pulham of Naalehu, Hawaii, and Dewey (Charlene) Pulham of Sun Prairie; sisters Tillie Smieja of Grafton, Mary Ripley of Hayden, Idaho, Dora (Dick) Olson of Sparta, Alberta (John) Dollak of Sun Prairie and Alyce (Dave) Jandt of Sparta; brother-in-law Larry (Diana) Rodenburg of Onalaska; sister-in-law Esther Pulham of Sparta; many other relatives and friends.
Preceding him in death were his wife, Grace; his parents; a brother Walter; a sister Ruby; and an infant brother.
Due to present circumstances, a memorial service will be held at a later date.
Inurnment will be at the Glidden cemetery.
A special thank you to all the nurses and staff at Mellen Manor Nursing home for your many years of great care. God bless you all.
Birch Street Funeral Service is assisting the family.