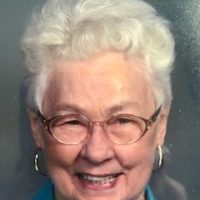 Julia Gundersgaard, 98, died April 30 at the Waterford of Park Falls, where she had made her home for the last six and a half years. Julia was born on December 26, 1921 in Park Falls, to Laura and John Hilgart. She graduated from St. Anthony's School and Lincoln High School, then completed a Business Management program in Milwaukee before returning to Park Falls. She married Ted Gundersgaard in 1946, and managed his business, Ted's Trucking, while raising her family, volunteering at St. Anthony's, and participating in many local organizations. She also worked for over 20 years at the Flambeau Medical Center, where she was a compassionate caregiver. She was an accomplished knitter, loved to sing and dance, and was devoted to her family.
Julia is preceded in death by her parents, her husband, Ted;  her brothers Benedict, Jon, Jim, and Elmer; and her sisters, Margaret Kundinger, Helen Belland, and Clara Donner.
She is survived by her daughters Jane (Jim) Wolfe, Weston, WI, and Ginger (Sigfredo) Rodriguez, Whiting Indiana; her son Jon (Carlene), Santa Cruz, California; five grandchildren (Jeff [Margaret] Wolfe, Park Falls; Jeri Wolfe, Madison; Alyssa Rodriguez, Whiting, Indiana; Brett Rodriguez, Reno, Nevada; and Tarra Gundersgaard, Santa Cruz, California); and four great-grandchildren, in addition to much-loved nieces and nephews.
A memorial service will be held at a later date.
Birch Street Funeral Service is assisting the family.