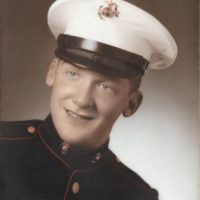 Winston Churchill: "I am ready to meet my Maker.  Whether my Maker is prepared for the great ordeal of meeting me is another matter."

James Bernard Boyer was born in 1933 on the Boyer homestead in Fifield Wisconsin, the fifth of seven children of Anna and Wenzel Boyer. Jim grew up helping on the farm and going to school in Fifield, and when time permitted, getting into good solid boy trouble with his friends and siblings (for example: playing tag with .22 rifles with his buddies which usually ended when someone got shot in the rear).  When he was a sophomore in high school he missed most of the school year to manage and operate the Fifield bowling alley.  Although the Park Falls bank was very gracious about his request to borrow money to purchase the business, they were not willing to loan money to a teenager, so Jim returned to school.  The principal passed him for the missed school year as he decided Jim had learned more running a business than he would have in school.  Jim learned how to play the accordion, and formed "The Jolly Woodsman" band with his brother Vince. Jim joined the Marines in 1951, ultimately missing his graduation as was common in those times, where he was fond of saying he graduated sixth in his class… of six.  Jim was trained to be a radio operator and became part of the 2nd Battalion 5th Marines serving in Korea.
When Jim was honorably discharged from the Marines in 1955, he returned to Wisconsin.  Eventually Jim met and married Shirley Jirschele of Park Falls.  They moved to Portland Oregon, where they had a daughter.  Jim held a variety of jobs, eventually driving truck at a printing plant.  The owner of the plant was a WWI Marine, and got Jim a printer apprenticeship.  Jim was always looking for ways to make extra money, so he joined the 304th Air Sea Rescue Air Force Reserves as a radio operator.  While out on a reserve weekend in 1960, a significant earthquake hit Alaska.  Jim's sea plane was sent to support rescue efforts in Alaska, where they stayed for three months. Eventually Jim landed a job as a printer with the Bureau of Engraving and Printing in the Department of Treasury in Washington, D.C.
Jim eventually became a Master Printer at the Bureau, along the way printing Congressional records, stamps, commemoratives and money.  His skills were recognized, and he was given the job of printing copies of the Constitution for dignitaries from the exact replica plate created from the original U.S. Constitution, a rare honor performed with great ceremony.  Jim was sent overseas to many countries to develop new printing presses for the Treasury, where he enjoyed socializing with the locals.  Jim also formed a limited partnership along with a master engraver and designer to create their own Elvis Presley commemoratives.
When Jim retired from the Bureau, he returned home to the Boyer farm, which he had purchased from his parents, enabling them to live out their lives in their home.  The farmhouse had been built from the wood of the old Fifield school, so it was in need of some serious renovation, which Jim undertook himself over a number of years.
Jim loved nothing more than a good road trip, preferably on the road less traveled, because he felt you saw more interesting scenery and met more interesting people.  Those trips naturally had to involve brushes with death, inevitably leading to great stories.  One of our favorite stories is of him driving a dirt road with stream crossings.  When his truck floated downstream, Jim took off his pants and waded to shore to look for help.  He was met by a cowboy on a horse at the shore while still pantless, who retrieved a tractor and pulled his truck to land. The ranch owners fed him, and then led him out to the main road.
Jim enjoyed spending time with his grandsons, teaching them how to use tractors, shoot guns, and ride ATV's.  There were many intense Four-in-a-Row tournaments held during the years over breakfast, of which Jim lost most. Jim never did get a college degree, so he was happy to be able to help his grandsons through college.
Eventually Jim decided he wanted to try his hand at running his own business.  He bought the gas station in Butternut which he named JB's Gas and Beer, with the motto "We cater to the driving public".  Jim became part of the Butternut social scene, holding court at the station.  He ran a very successful business and had a great team of employees supporting him, who he remembered very fondly.  After a few years of success Jim sold the gas station, a move he always regretted.  He really enjoyed being part of Butternut.
Eventually Jim was recruited for the unofficial town council meetings held over coffee most weekdays at the Park Falls Family Restaurant where, along with other local colorful characters, current events were analyzed and solved.  Jim was a student of history and politics and was able to provide great background.
Those of you who knew Jim remember the laughter and inquisitiveness, his fondness for storytelling and sharing lessons of history.  Alas, after his many adventures, which include a hit and run accident as a boy on his bicycle, getting shot in Korea, colliding with a semi on his motorcycle and robbed while unconscious, he has exhausted his nine lives.  If you haven't had a chance to see his headstone, you should take a run by the Fifield Cemetery.
Jim is survived by: His sister Georgia Alarcon of Atlanta, Georgia; daughter Kimberly Boyer; Grandson's Alec and Scott Dee, and; many nieces, nephews, and other relatives and friends.  He was preceded in death by his parents; brothers Frank, Vincent and Douglas Boyer, and; sisters Helen Lannigan and Margaret Boyer.
Rest in peace James Boyer.  You were loved by many.  You lived your life fully and on your own terms.
Graveside services will be held at Forest Home Cemetery in Fifield on Friday May 15, 2020 at 2:00pm.  Deacon Chet Ball will officiate.  Military Honors will follow under the auspices of the Fifield American Legion Post.
Birch Street Funeral Service is assisting the family.