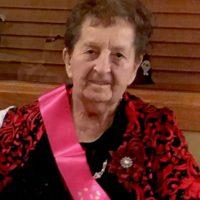 Eleanora Elizabeth (Bauer) Brendalen was born in Cold Spring, MN.  On October 24, 1919.  She was the fifth of ten children born to Frank and Agatha Bauer.  She attended a country school for eight years and was raised on the family farm by her hard-working German parents.  Eleanor worked side-by-side with her seven sisters and two older brothers clearing the land with a two-man cross cut saw, then hooking up chains to the horses to pull out stumps.  After the timber was cleared, they burned the field and then tilled the ground with a plow drawn by horses.  Planting was a tedious job, as well as harvesting.  Everything was accomplished by hand.  Back in that day there wasn't electricity or tractors available to everybody!  Their garden sustained them; along with the canning of meat, vegetables and fruit, which was done by teamwork from this industrious family.  But it wasn't all work for this fun-loving folk.  Eleanora recalls many good times of midnight sleigh riding parties, and making candy and cookies.  The barn dances were especially lively times, as her family was very musical and could play about any instrument by ear.  Eleanora played polkas on her accordion as well, and could speak and sing in German.
When Eleanora was 19, she and two of her sisters, Alma and Tillie, moved to Minneapolis, MN. To find employment during the tail end of the Great Depression.  She worked first at Foley's  as a spot welder.  While she was in the Twin Cities she was approached by a young Navy man, who was heading back home to Clearbrook, MN. After his tour of duty in the Pacific theater of WWII.  He had been pick-pocketed and had no money for the final bus ticket home. So, Eleanora loaned him $20, never expecting to hear from him again.  But, she did!  Hans Brendalen, true to his word, sent her the money and they continued to correspond with each other.
On September 27, 1947, they were married and lived in Milwaukee, WI. Where she was employed at Allis Chalmers.  Two sons, Arnold and Edward were both born in Milwaukee.  After a few years of living in the hustle and bustle of the city, they decided to move to a small farm in Glidden, WI.  There they welcomed three more children into their lives, David, Donna, and Michael.
Eleanora loved her family, her God and her life in the country.  She was a blessing and a joy to all who knew her.  She was kind and very helpful and very good natured.  She was an excellent cook, baker, gardener, and farmer.  She loved people, animals, flowers and especially her children.
Left to cherish her memory are her children: Arnold (Margie) of Appleton, Edward (Leanne) of Butternut, Dave of Ashland, WI., Donna (Mark) LaDue of Canton, SD.  And Michael of Boston, KY., nine grandchildren, ten great-grandchildren and two great-great grandchildren.  She was preceded in death by her husband, her parents, two brothers and six of her sisters, only Leona (Larry) Hahn of Cottage Grove, MN. Is left of all her siblings.
A private family memorial service will be held at a later date.
The Birch Street Funeral Service is assisting the family.