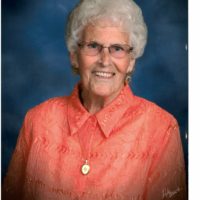 Florence Anna Kosterman (Fuchs), 93, of Phillips, passed away peacefully surrounded by her family on June 8, 2020, at the Waterford, Park Falls. Florence was born on August 8, 1926, in Catawba, WI, a daughter to George and Esther Fuchs.
Florence married Edward in October 11, 1944. Together, they had 7 children and ran a dairy farm together. While running the farm, she held various other part time jobs before eventually moving to Phillips where she worked Phillips Plating until her retirement. Florence loved spending time with her family and friends, gardening, taking her daily walks, and baking – especially donuts and homemade bread. She also loved writing poems and reading.
She is survived by her children, Dan (Kathy) Kosterman, Linda (Kenny) Heizler, Gary (Kathy) Kosterman, Art (Sue) Kosterman, Debbie (Don) Ringersma, Connie (Danny) DeLasky; 13 grandchildren; 16 great-grandchildren; and 1 great-great-grandchild; brothers, Clarence Fox and George Jr. Fox; sisters, Betty Otto, Lorraine Hause, Arlene Arquette, and Marge Nierode.
Florence is preceded in death by her husband, Edward; daughter, Bonnie; her parents; brothers, Bob, Bill, Paul, and Don Fuchs; sisters, Dorothy Lallemont, Martha Bauer, Mildred Cicha, Clara Blaskowski; and an infant brother and sister.
Mass of Christian Burial will be held on Friday, June 12, 2020, at 11 a.m. at St. Therese of Lisieux Catholic Church, 655 S Lake Ave, Phillips, WI, with a public visitation held at Heindl-Nimsgern Funeral Home, 304 N. Avon Ave, Phillips, WI, from 9:30 a.m. to 10:30 a.m. Burial will take place in Catawba Catholic Cemetery, Catawba, WI. There will be no restrictions at the funeral home due to COVID-19, however, the guests are welcome to bring and wear a mask if they chose to do so.