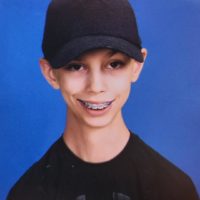 Andrew John DeGroot, 14, of Phillips, passed away on June 8, 2020, at the Children's Hospital of Wisconsin in Milwaukee. Andrew was born June 27, 2005, in Menomonee Falls, WI, to Robert and Holly (Josephson) DeGroot. He would've turned 15 this month, and had just completed his freshman year at Phillips High School.
Andrew enjoyed all sports, good music, rooting for Matt Kenseth, and the Miami Dolphins. He loved spending time with his family, especially his brother Ryan, his dog Willow, and his cousins.
Survivors are parents, Bob and Holly; brother, Ryan; best dog, Willow; and special Gramma, Ruth Josephson. Other survivors include, Bill & Jennifer DeGroot, and cousin Sean, and Aaron and Khristine Josephson, and cousins, Britta and Gus.
A Funeral Service will be held on Saturday, June 13, 2020, at Trinity Lutheran Church, 103 Trinity Drive, Phillips, WI, at 11 a.m. Visitation will be on Friday, June 12, 2020, from 5 p.m. to 7 p.m. and again one hour prior to services at the church on Saturday. Due to COVID-19, guests are encouraged to bring and wear a mask when attending services.
We especially want to thank all of the Oncology Medical team, 5 West ICU and supporting staff of Children's Wisconsin for all of their care and support shown to Andrew and ourselves. No small gesture went unnoticed.
We also thank everyone that kept Andrew, and our family in your prayers and reached out to us during this difficult year.
In lieu of flowers, memorials appreciated to be set up for a scholarship in Andrew's name, or to the Ronald McDonald House Charities by visiting www.rmhc-easternwi.org. Heindl-Nimsgern Funeral & Cremation Services is assisting the family.