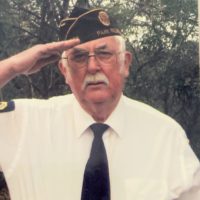 (Veteran)
Frederick "Bill" William Dirrigl, age 84, of Park Falls, died on Thursday June 18, 2020 at his home.  He was born on April 28, 1936 in Park Falls, the son of William and Lila (Wells) Dirrigle.  His early life and schooling were in Park Falls.   After graduating high school in 1954 Bill entered the United States Air Force and served his country until 1974.  Bill was awarded the Bronze Star in Vietnam for Meritorious Service, in part for ground operations against opposing forces.  He was also awarded the Air Force Commendation Medal and in the citation he was lauded with exemplary praise.   After retiring from the Air Force he returned to Wisconsin.  In 1980 he married Pat and the couple owned and operated Bill & Pat's Round Up in Park Falls for many years.  Bill was a lifetime member of both the Park Falls American Legion Post 182 and VFW Posts.  He enjoyed fishing, hunting, camping, gardening, moving sawhorses, and spending time with his family and friends.
He is survived by:
His wife Pat of Park Falls
(5) children:
Bob (DeeDee) Rogers of Brooksville, FL
Rick (Cindy) Rogers of Spring Hill, FL
Sue (Joe) Nessman of Park Falls
Nancy (Walter) Gaulke of Superior
Kathy (Dave) Rogers-Gerberding  of Hudson
(16)grandchildren, (14)great-grandchildren
His sister Judy Nessman of Manitowoc
his sister-in-law: Mary Dirrigle of Park Falls
And many nieces, nephews, and other relatives and friends.
He was preceded in death by his parents, his brother Joe Dirrigle, and his son-in-law P.J. Herbst
Funeral services will be held at the Park Falls American Legion Post 182 on Tuesday, June 23 at 11:00am.  Deacon Chet Ball will officiate.  Military Honors will follow.
A visitation will be held on Tuesday at the Legion Hall from 10:00am until the hour of the service.
Interment will take place at Nola Cemetery in Park Falls.
In lieu of flowers, memorials to the Park Falls American Legion Post 182 would be greatly appreciated.
Birch Street Funeral Service is assisting the family.