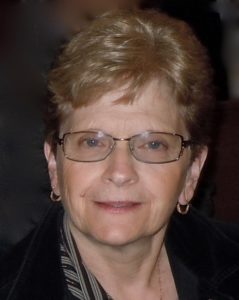 Rosemary (Sorel) Bay passed into heaven on May 15th, 2020. She was born Oct 12, 1942 to Edward and Agnes (Graf) Sorel in Mellen, WI. Rosie was the fifth of nine children and was raised in Mellen. After graduating HS, she moved to Illinois to live with her sister. She met Bernie Bay at her sister Linda's wedding, and they were married Oct 13, 1962. They resided in Northlake IL where they raised their two children.
Rosie was a fantastic homemaker and worked several positions at the local grade school. Upon retirement, Rosie and Bernie moved back "up home" to Glidden, WI. There she enjoyed her job at Winter Woods, delivering meals to those in need and being a member of the VFW Women's Auxiliary. She loved crafting, bingo, beating Bernie and her father in law George in a game of cribbage, farkle with the girls, spoiling her grandchildren and spending time with her family and friends.
She is survived by her two children; Dan (Monica) Bay of Antioch IL, Colleen (Tony) Randazzo of Chicago IL. Grandchildren; Danielle & Jack Bay, Colin & Claire Randazzo. Five sisters and two brothers; Joyce McKay of Mellen WI, Carol Nanninga of Aurora IL, Edward Sorel of Mellen WI, Linda Butler of Franklin Park IL, Kathy Jellich of Anchorage AK, Robert Sorel of Anchorage AK, Constance Sorel of Anchorage AK. And many special nieces and nephews.
She was preceded in death by her parents, sister Janice Jusula and husband Bernie.
A memorial service will be held on Saturday July 11, 2020 at Most Precious Blood Catholic Church in Glidden, WI.  Visitation will start at 10:00 am with the memorial mass to follow at 11:00 am.  A light luncheon will be held at the Glidden VFW at 12:30 pm.