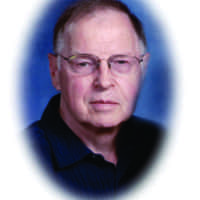 David M. Boettcher
Dave died peacefully at Lakeside Villa Assisted Living in Phillips, WI on Wednesday July 15, 2020.  Dave is now free from  Alzheimer's which stole the last years of his retirement life.
Dave lived a life marked by faith, hard work, fun and service to his community.  He was born in Park Falls on March 3, 1940, the son of Murlin and Gertrude (Hoffman) Boettcher.  He attended St. Anthony's School for eight years and Lincoln High School for four.   As a young lad he had a paper route delivering the Evening Telegram and worked at City Service gas station. Upon graduation he attended the University of WI Stevens Point for two years.
After returning to Park Falls, he started his career in printing at F.A. Weber & Sons in 1961.     He completed an ICS correspondence course in Refrigeration and Air Conditioning. Dave married Carol (Butts) in 1965. He worked at Weber and Son's printing for 32 year and at the same time he owned and operated Dave's Refrigeration and Appliance Sales and Service which he owned and operated with his wife before transitioning the business to Park Falls Print and Copy which he owned and operated for 15 years before he retired in 2008.
Dave was in the Drum and Bugle Corp and was a second horn Bugle Sergeant. He served as a Park Falls City Alderman for two terms, he was on the Park Falls Chamber of Commerce Board and later President for two terms.  He also served as the Chairman for Flambeau Rama.  Dave was a third degree Member of the  Knights of Columbus. He was the co-chair of their 4th of July celebration and creator of their Oktoberfest celebration.  He volunteered countless hours to help keep these events part of the community.
In his spare time, he enjoyed woodworking, photography, cross country skiing, trap shooting, ATV riding, dining out, music and walking.  He and Carol attended every polka festival they could through the years.  He loved to entertain his family and friends. Picnics, horseshoes, card playing, camping, and music were at the top of his list while he and Carol raised their family.   In 1997  Dave purchased the Buckhorn Tavern and completely remodeled it into the Buckhorn Retreat Vacation Rental.  He and Carol owned and operated this for twenty years.
Dave is survived by his wife Carol of 54 years. Three children.  Kurt (Laurie) Boettcher, Lisa (Randy) Kosmicki and LuAnn (Mark) Palecek.  Grand children, Callie Jo Boettcher, Jamie Palecek, Cody Palecek, Ashley Kosmicki, Alyssa Kosmicki, Shannon Mullins, Jenna Meier and Sara Bruckert.  Twelve great grandchildren  Further survived by two brothers, Robert (Margaret) Boettcher, Stillwater, MN and Jerry Boettcher, Eau Claire, WI.  Brother and Sister in Laws, Jerry and Jeannie Butts, Lynn Haven, FL, Calvin and Ellen Butts, Hager City, WI  along with numerous nieces and a nephew.    He was preceded in death by his parents, Murlin and Gertrude Boettcher, his brother Tom Boettcher, nephew Rual Boettcher,  his mother & father-in-law: Lawrence & Margaret Butts, and sister in law Matilda Boettcher.
Funeral services will be held at St. Anthony Catholic Church in Park Falls on Saturday July 18, 2020 at 11:00 a.m. with Father Shaji Pazhukkathara officiating.
Interment will follow at Nola Cemetery in Park Falls.
In lieu of flowers please make a donation in Dave's name to  the St. Anthony's  roofing project.
The Birch Street Funeral Home is assisting the family.