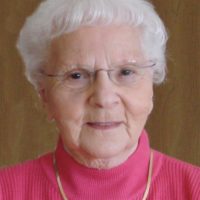 Anne Bloom, 98, Phillips, died in the Aspirus Pleasant View Nusing Home in Phillips on March 15, 2020.  She was born on July 26, 1921, the daughter of Joseph and Anna Ondrejka.  She was a graduate of the Phillips High School and of the Price County Normal.  She was married to George "Bud" Bloom in Phillips in 1943.  She operated the Phillips Laundrette and was employed by Pleasant View Nursing Home.  She was a member of Saint Therese of Lisieux Catholic Church, the Catholic Daughters, and of the VFW Auxillary.
Survived by daughter Judy Ulatowski, Greendale, WI and son Terry, Bloomington, MN; by two grandchildren, Michelle (tony) Hahn and Michael Ulatowski; and by two great grandchildren, Nolan and Pawel Hahn.  Preceded in death by her husband, George; brothers Joe and Frank Ondrejka, by seven sisters, Hatti Bezrouch, Alma Buettner, Agnes Raskin, Betty Reigel, Mary Clark, Johanna, and infant Lilly; and by many brother and sister-in-laws.
Interment will be in the Saint Patrick Cemetery in Phillips.   Memorial
services will be held at Saint Therese of Lisieux Catholic Church in Phillips at 11:00 A.M. on Monday, August 3, with Father Madanu Lourdu Raju celebrating the Funeral Mass.  Friends may call at the church from 10:00 A.M. until the time of services.