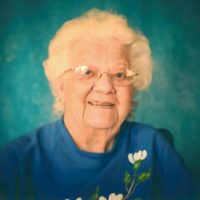 Anna A. Cechvala, 94, of Phillips, passed away peacefully in her sleep on July 17, 2020, at Aspirus Pleasant View Nursing Home, Phillips. Anna was born on April 28, 1926, in Phillips, daughter of Stephan and Maria (Filkas) Cechvala.
Anna attended schools in Phillips and after graduation in 1944 she left for Sturgeon Bay, WI, to work in the shipyards. She returned to Phillips in 1946 to work at the Mess Family Telephone Company before moving to Chicago to work as a telephone operator. She then relocated to Milwaukee with other family members to work for the Bell Telephone Company until retirement from AT&T. After retirement, she moved back to Phillips to be near other family. She enjoyed doing beautiful needle work projects, word puzzles, and reading. In her working years, she very much enjoyed traveling to various states and Europe. Eventually, in later years, she was a resident of Aspirus Regency until being moved to Pleasant View Nursing Home until the time of her passing. Anna was also a member of the St. Therese of Lisieux Catholic Church in Phillips.
Anna will be sadly missed by her nieces and nephews. She was a sweet, quiet person, never saying an unkind word.
She is survived by brother, John, of Colgate, WI; nieces and nephews, Cathy Salek, Edna (Salek) Keksi, Mary Jane (Salek) Moriarty, Nancy (Cechvala) Conner, Suzanne (Simurdiak) Riggles, Peter Simurdiak, Charlene Cechvala, and Jim Cechvala; and other surviving family members.
Anna is preceded in death by her parents; and siblings, Frank Cechvala, Jennie Salek, Edward Cechvala, and Mary Simurdiak.
A private family service will be held at a later date. Heindl-Nimsgern Funeral & Cremation Services is assisting the family.