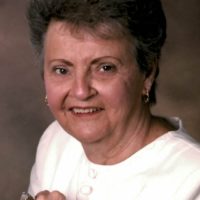 Agnes "Tootie" Petersen, 89, of Phillips, went to join Ross and God on July 25, 2020. Agnes was born on May 7, 1931 in Rib Lake, a daughter to Michael and Rosa Schneider. She married Ross on October 7, 1950 and they celebrated 68 years together.
She loved spending time with her family, gardening, sewing, cooking, and watching baseball – especially the Milwaukee Brewers.
She is survived by her children, Debbie Petersen, Karen (Gary) Panka, Jeffrey (Mary) Petersen, John (Nancy) Petersen, Jerry (Jodi) Petersen; 11 grandchildren; 12 great-grandchildren – with another one arriving in September; numerous nieces and nephews; and one brother.
Agnes is preceded in death by her husband; parents; and 12 siblings.
A Mass of Christian Burial will be held at 11 am on Wednesday, July 29, 2020, at St. Therese of Lisieux Catholic Church, 655 S. Lake Ave, Phillips, WI, with inurnment in Lakeside Cemetery. Heindl-Nimsgern Funeral & Cremation Services is assisting the family.