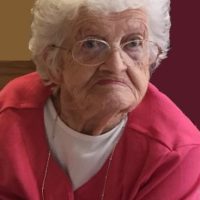 Louise Mae Zorn, 97, lifelong resident of Phillips, passed away on July 19, 2020, at Aspirus Pleasant View, in Phillips, WI.  Louise was born on April 30, 1923, in Phillips, WI, a daughter to Edwin and Eunice (Storll) Foster.
Louise married Leslie John Zorn in November of 1951, and together they had two children Larry and Linda.
She was an avid sports fan watching the Green Bay Packers, Milwaukee Brewers, and Wisconsin Badgers, attending the games with her family as season ticket holders for the Packers since 1952.  She was proud to follow them to the Superbowl XXXI in New Orleans, LA. They also attended the Milwaukee Braves World Series in 1957, and the Milwaukee Brewers World Series 1982.
Louise briefly attended the University of Wisconsin-Whitewater but was called home to work in the Foster family business the Phillips Bee newspaper during World War II.  She worked there for many years in various aspects of the business as needed.
Some of her favorite pastimes included knitting, planting flowers in her garden, and baking cookies to share with family and friends. She was an active member of the United Methodist Church in Phillips.  She was also involved in many civic organizations in Phillips over the years.
She really enjoyed visiting with the many people who would stop to see her at the nursing home and would always entertain them with facts about the history of Phillips.
She was a very caring and selfless person as she donated money several times to the community and would remain anonymous.
Louise is survived by her children, Larry (Eau Claire, WI) and Linda (Chico, CA); nieces and nephews; many other family and friends.
She is preceded in death by her parents; husband; and siblings, John Foster and Dorothy Willers.
Due to COVID-19, the family is not holding services at this time. They plan to eventually hold a service for her when it is safe to get together again. Heindl-Nimsgern Funeral & Cremation Services is assisting the family.
The family would like to thank the Aspirus Pleasant View Nursing Home staff for their 10 years of care.