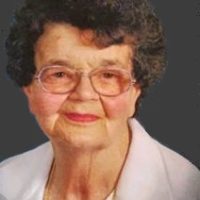 May L. Sir, 88, of Phillips, passed away on July 26, 2020, at Marshfield Clinic Hospital in Marshfield, WI. May was born in Phillips, WI, a daughter to Bohumel and Lulu (McKibben) Washa.
She married Jerry Sir and together they had five children. They ran the dairy farm until Jerry passed away to focus on raising her two young sons. She was active in the community as a member of St. Therese of Lisieux Catholic Church, volunteering at the Price County Achievement Center, various bake sales, and helping family and friends whenever she could. She loved to be social and make friends, sometimes known as a firecracker. May liked to do crossword puzzles and watch old western movies.
May is survived by her children, Jerald (Michele), Roger (Donna), John, and Ray; grandchildren, Amber (Carl) Gerber, Stacy (Dan) McMullen, Laura Sir (Logan), Roger Lee (Steph) Sir, and Jeannie (Justin) Kmetz; great-grandchildren, Leah, Aspen, and Natalie; siblings, Clara, Irene, Loraine, Richard and Robert.
She is preceded in death by her husband; parents; siblings, Betty Ellen, Arlene, and Artie; and one son, Michael.
Mass of Christian Burial will be held on Friday, July 31, 2020, at 11 a.m. at St. Therese of Lisieux Catholic Church, 655 S Lake Ave, Phillips, WI, with a public visitation held at Heindl-Nimsgern Funeral Home, 304 N. Avon Ave, Phillips, WI, from 9:30 a.m. to 10:30 a.m. Burial will take place in Lakeside Cemetery, Phillips, WI. There will be no restrictions at the funeral home due to COVID-19, however, the guests are welcome to bring and wear a mask if they chose to do so. If you are planning to attend Mass at the church, a mask is required.
In lieu of flowers, the family requests donations be made to the Red Apple Center, 598 Peterson Drive, Phillips, WI, 54555 or the Aspirus Primrose Corner, 541 S Lake Ave, Phillips, WI 54555 in May Sir's name.