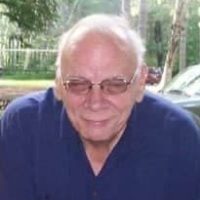 John E. Vlach, 80, of Phillips, passed away peacefully surrounded by his family on July 28, 2020, at his daughter's residence in Park Falls. John was born July 11, 1940, in Phillips, a son to Francis and Jenny (Novak) Vlach.
John attended schools in Phillips, and after graduation, he joined the United States Navy. After his service, he traveled with the Tip Top Carnival around northern Wisconsin where he met the love of his life, Pat. They relocated to Illinois where he drove bus and they worked together at Danly Machine Company in Cicero where he would retire from. Moving back to Phillips, he worked various jobs while being active in the community as a faithful member of St. Therese of Lisieux Catholic Church, the Moose Lodge 2661, The Knights of Columbus, golf league, an Alderman for the City of Phillips, and a Supervisor on the County Board.
He is survived by his wife of 50 ½ years, Pat, of Phillips, WI; children, Danita (Kurt), of Park Falls, WI, Donald (Judy) with special child, Brianna of Rochester, IL, Geri (Ed) Arsenault, of Rochester, IL; 9 grandchildren; 3 great-grandchildren; siblings, Joe, Bob, Bill, Tony, Barbara, and Irma; and other loved family members.
John is preceded in death by his parents; and siblings, Jim, Frank, and Agnes Dumann.
Mass of Christian Burial will be held Saturday, August 8, 2020, at 11 a.m. at St. Therese of Lisieux Catholic Church, 655 S Lake Ave, Phillips, WI, with a public visitation held at Heindl-Nimsgern Funeral Home, 304 N. Avon Ave, Phillips, WI, from 9:00 a.m. to 10:30 a.m. Burial will take place in Lakeside Cemetery, Phillips, WI. There will be no restrictions at the funeral home due to COVID-19, however, the guests are welcome to bring and wear a mask if they chose to do so. The church requires a mask if you choose to attend Mass at Church.