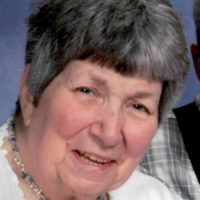 Charlene "Sherry" Joan Sawallich, age 80, of Clam Lake, died on Wednesday September 30, 2020 at Mellen Manor Nursing Home in Mellen.  She was born on November 3, 1939 in Milwaukee, the daughter of Armond and Mildred (Weckerle) Apel.  On February 22, 1958, she married Albert Sawallich.  The couple moved to Clam Lake in 1999.  Sherry was a member of the New Hope Garden Club and active at Trinity Lutheran Church.  She enjoyed gardening, hiking, camping, swimming, and spending time with her family and friends.
She is survived by:
her husband Albert of Clam Lake
(4)children:
Mark Sawallich of River Falls
Debbie (Vernon) Engbloom of Coon Rapids, MN
Laurie (John) LeClair of River Falls
Julie (Sig) Degitz of Lake Nebagamon
(8)grandchildren, a great grandson
her brother Richard (Diane) Apel of Cedarburg
and other relatives and friends.
She was preceded in death by her parents, her son David, and brother Ken Apel.
Funeral services will be held at Trinity Lutheran Church in Glidden on Monday October 5, 2020 at 3:00pm.  Rev. Kenneth Lahners will officiate.
A visitation will be held at the church on Monday from 2:00pm until the hour of the service.
Burial will take place at Glen Haven Memorial Gardens in Crystal, MN on Wednesday October 7, 2020 at 1:00pm.
Birch Street Funeral Service is assisting the family.