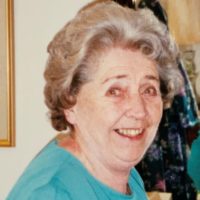 Ruth Alice Dryden, age 96, of Glidden, died peacefully on Thursday, October 1, 2020, at The Waterford in Park Falls.  She was born and raised in Milwaukee, the daughter of Gustav and Eliza.  She was married in 1944 to Daniel Dryden, the son of George and Helena, of Glidden.  The couple retired to Glidden in 1975 after the Army took them all over the USA and Germany.  Ruth was a member of the Eastern Star and both the American Legion and VFW Auxiliaries.  She enjoyed playing cards and baking.
She is survived by her son George (Heidi) Dryden of Arlington, VA, her daughter Jane (Ed), of San Francisco, CA, her granddaughter Eliza of Arlington, VA, and other relatives and friends.  She was preceded in death by her parents and her husband Daniel.
Interment will take place at Mount Hope Cemetery in Glidden.
: In lieu of flowers, memorials to Ashland County Faith In Action would be greatly appreciated.
Birch Street Funeral Service in Park Falls is assisting the family.