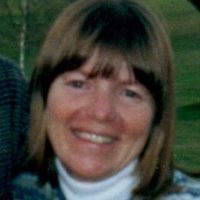 Nancy Jean Witter, age 68, passed away on December 29, 2020, with her loving husband, Robert Allen Witter at her side.  Together they celebrated their 51st Anniversary on December 27th.  She was born Nancy Jean Evraets on August 7, 1952 in Port Washington, WI, to Margaret and Silas Evraets.
She loved being a wife, mother, grandmother, sister, aunt, and friend.  She played as hard as she worked: cooking, walking, gardening, snowmobiling, fishing, and just being with her family.  She and Robert retired to their retreat in the woods on the Turtle Flambeau Flowage in Butternut, WI.
Nancy was a hard worker and always gave 100 percent to any job or task that needed to be accomplished.  She worked for Sentry Food stores in West Bend, Hartford, and Richfield as a bakery/deli manager for many years.  She also worked at Pack-n-Ship and Ace Hardware in West Bend.  Nancy's favorite job before retirement was when she worked as one of the lunch ladies at Allenton Elementary.
She is survived by her beloved husband Robert Witter, her loving children, Bobbie Jo (Troy) Hicks and Paul (Amy Dries) Witter,  (17)cherished grandchildren and (4)great-grandchildren, dear siblings: Warren & Kay, Louis & Sandie, Kenneth & Amy, Linda & William, Edwin, Carl, mary Jane, David & Pam, Fred & Pauline, and Phyllis & Wayne, and many nieces, nephews, and other relatives and friends.
Celebration of her life will be announced at a later date.  She loved us well and will be missed.  "I Can Only Imagine" where she is now.  (song by Mercy Me)
Birch Street Funeral Service is assisting the family.