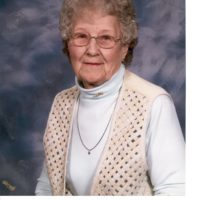 Marianne L. Zett, age 97, of Loretta, died on Wednesday December 30, 2020 at her home.  She was born on August 2, 1923 in Minneapolis, MN, the daughter of William and Elma Falk.  Marianne was married to Clarence Zett.  She was a clerk for Hines Lumber Company for many years and then worked as the Loretta Town Treasurer for many years.  She was a member of Calvary Lutheran Church and the Loretta American Legion Auxiliary.  She enjoyed knitting, gardening & canning, and spending time with her family and friends.
She is survived by her son William (Rosemary) Zett of Loretta and many nieces and nephews.  She was preceded in death by her parents, her husband Clarence and brothers William and George Falk.
A memorial service will be announced at a later date.
Birch Street Funeral Service is assisting the family.