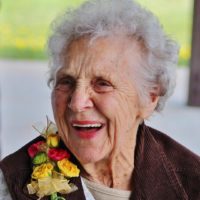 Bernice "Beezie" Joyce Schulpius (nee Johnson), 95, Phillips, died on April 02, 2021, peacefully in her home.  She was born on May 24, 1925, in Park Falls, WI, at "The Hinton House," the daughter of Emil and Erna Johnson.
She graduated from Phillips High School in 1934. After graduation, Bernice took a bus down to Chicago, IL, where she lived for several years. She moved to Milwaukee, WI, and eventually moved back to Phillips to raise her family in a home next to her parents. In Chicago, she worked at a Schwinn Bicycle factory, where she helped to assemble bikes. Once back in Phillips, she started a job at Phillips Plastics until she retired.
Back in Phillips, Bernice met her loving companion and forever dancing partner, John Perger. Although the two never married, they dated for 47 years. Bernice and John attended countless polka dances and were quite the couple to watch on the dance floor. As Bernice got older, she was unable to polka as she used to, but that never stopped her from keeping beat with the music or singing along. Polka dancing was a big part of Bernice's life, and anyone who knew her could tell you about her tapping her foot to the music was just second nature. Bernice never failed to put the needs of those she loved before her own. She was a wonderful mother and a dear friend to all. Selfless, to say the least, Bernice spent many hours dedicated to putting clothes together to give away or to find a home for clothes for someone in need. The love of her kind, compassionate heart shone in her eyes. Bernice earned the nicknames "Beezie" and "Bea" because she was always busy as a bee. There were no strangers to Bernice, she cared for everyone she met. Growing up as the oldest of six children, Bernice was responsible for helping out with her five younger brothers. Bernice often told stories of all the fun she and her brothers had together despite their hardships.
She is survived by one brother, Elmer Johnson (Ethel Johnson), Phillips; by her children, Jerry Souter (Christy) of Leland, NC, Aina Davis (Teemu Kannisto) of County Kerry, Ireland;  grandchildren Jason Jasurda of Phillips, Brooks Souter (Amber Wallner), of St. Paul, MN, Shanna Souter (Andrea Costi) of Sydney, Australia; two great-grandchildren, Mattia and Camilia Costi; God child, Annikka Johnson; and many nieces, nephews and other close loved ones.
She is preceded in death by her parents; four brothers, Gordan, Clifford, Donald, Emil Jr.; daughter, Debra Jasurda; and loving companion, John Perger.
A Memorial Service will be held at 2 p.m on Thursday, April 8, 2021, at St. John Lutheran Church, 120 Forest Avenue, Phillips, WI, 54555, with a visitation beginning at 1:00 pm.
"Do the best with the gifts you are given, each of you were put here for a reason, always trust in God to guide your way."