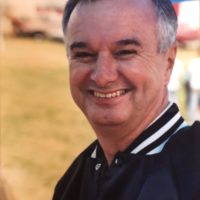 Frank Joseph Baroka Jr., age 78, of Park Falls, died peacefully with his daughter at his side on Wednesday April 7, 2021 at Park Manor Rivers Edge.  He was born on December 17, 1942 in Milwaukee, the son of Frank Sr. and Alice (Cerar) Baroka.  His early life and schooling were in Milwaukee.  He moved to Fifield in 1950 and was a member of the last graduating class of the Fifield School.  Frank worked at St. Croix in Park Falls for six years where he met his wife Janice Martin.  The couple married on May 17, 1969.  He then worked for the Flambeau Paper Mill for 34 years, retiring in 2000.  After retirement he ran the Wausau Music Store in Park Falls for eight years.  Frank played in multiple Polka bands, starting at the age of 12: Pete Farkas Orchestra, Jolly Vagabonds, Frankie Baroka and the Happy Polka Boys, the Jeff Walker Band, and the Spotlight Polka Band.  He played with multiple famous musicians, including: Frankie Yankovic, Walter Ostanik, and Myron Foran of the Lawrence Welk Show, and frequented the Big Joe Polka Show.  He was invited to the International Polka Fest for over 20 years.  Frank enjoyed spending time with his grandchildren, making the Northwoods Polka Show for his Saturday morning radio show, and playing in his Polka Band.  His motto was: "Polka is happy music for happy people".
He is survived by:
His daughter Charity (Tim) Schloer of Butternut
(3)grandchildren: Jordan, Jacob, and Johanna Schloer
(2)brothers:
James (Jean) Baroka of Fifield
Ronald (Margaret) Baroka of Woodruff
his special friend Sandy Jarosinski
and many nieces, nephews, and other relatives and friends.
He was preceded in death by his parents, his wife of 48 years, Janice, and his brother and sister-in-law Dewy and Gail Andrews.
A visitation will be held at Birch Street Funeral Service in Park Falls on Sunday April 11, 2021 from 4:00pm until 8:00pm.
A private funeral service will be held at Peace Lutheran Church.
Burial will follow at Forest Home Cemetery in Fifield.
Birch Street Funeral Service is assisting the family.