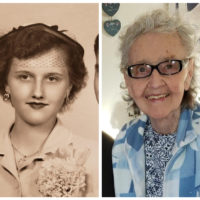 Janice (Schmidt) Nelson, 84, of Glidden, Wisconsin passed into eternal life on Saturday, May 1, 2021 at Hayward Area Memorial Hospital in Hayward, WI. She had recently been transferred to Hayward Health Services to recuperate from a fall so she could be closer to her son, David and his wife, who live in Hayward.
Janice was born February 6, 1937 in Glidden, Wisconsin to parents, Clifford and Evelyn (Eder) Schmidt. She grew up in Glidden where she had many adventures she loved to reminisce about. After graduating from Glidden High School in 1954, she was united in marriage to Benjamin Arthur (Art) Nelson on June 19, 1954. They celebrated 60 years together before Art died in 2014. Janice was a homemaker most of her life but did run a successful Avon business, and later she and Art bought and ran Nelson's Bar (formerly Schmidt's Bar) for several years. Janice truly enjoyed visiting with her customers and friends. Janice had a tender heart for those in need or who just needed a friend. She was a faithful member of Most Precious Blood Catholic Church in Glidden and was the treasurer for St. Ann's Sodality for 25-plus years. Janice will be greatly missed by her family and friends.
Janice is survived by a son, David (Nancy) Nelson of Hayward, WI; a daughter, Linda (Rick) Peckels of Hartford, WI; two grandchildren, Sonya (Jeremiah) Shipley, and Krista (Scott) Willis; three great- grandchildren, Bella, Sophia, and Charles; and several cousins.
Janice was preceded in death by her parents, her husband, Art, her son, Cliff Nelson, and many special aunts, uncles, and cousins.
The Mass of Christian Burial will be held on Saturday, May 8, at 11:00 am at Most Precious Blood Catholic Church in Glidden, Wisconsin. A time of visitation will be held from 10:00 to 11:00 before the service with a lunch following the Mass at the church. It would be appreciated if those attending wore masks if possible.
The family would like to extend their deepest thanks to Carol Megan of Glidden (and her family) for her/ their extraordinary efforts in helping Janice in her time of need. We thank Mary Ann Schoch for always checking in with Janice on a regular basis and we thank the Glidden Ambulance crew for their outstanding service. We are very grateful to the angels/nurses at Hayward Health Services for their care of Janice and finally to the wonderful staff at Hayward Area Memorial Hospital for their compassionate and excellent comfort care for Janice in her last hours.
Birch Street Funeral Service (formerly Novitzke Funeral Home) in Park Falls, WI is assisting the family with arrangements. The family is extremely grateful for Ken and Anna's professional help to the family.