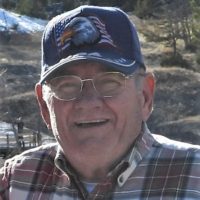 (Veteran) Daniel L. Koch, age 81, of Glidden, died on Saturday January 1, 2022 at Marshfield Medical Center in Minocqua.  He was born on May 14, 1940 in Chicago, IL, the son of Louis and Kathleen (O'Neill) Koch.  After his schooling, Dan served his country in the United States Marine Corps.  He was married to Carol Sue (Horky) who preceded him in death in 1989 and Bonnie Beth (Chesak) who preceded him in death in 2007.  He worked as a circulation manager for several trade magazines and enjoyed gardening and crosswords.  Most of all, he enjoyed spending time talking and being with his family and friends.  The one thing that made Dan so incredible is that he would go out of his way to make sure people knew how special they were to him.  He treated everyone with kindness and respect.  As one of God's angels, dad loved to help people anyway he could without ever asking for anything in return.  In his final words to his family, he wanted to make sure we told all of his friends and family how special they were and how much he loved them.  Dan knew that we'd all be together one day down the line.
He is survived by (4)children: Mark (Amy) Koch of Breese, IL, Mike (Kim) Koch of Bartlett, IL, Sue (John) Ramson of Birchwood, and Tom (Jill) Gigante of West Bend, (9)grandchildren: Claire, Tommy & Andy, Nicole, Jack, & Joe, and Jessica, Kelly, & Jackie, (11)great-grandchildren,  (2)sisters: Eileen (Don) Moderhack of Naples, FL and Pat Brenner of Arlington Heights, IL, and nieces, nephews, and other relatives and friends.
A visitation will be held at Birch Street Funeral Service in Park Falls on Friday January 7, 2022 from 12:00pm until 1:30pm.
Military Honors will be held at the funeral home at 1:30pm under the auspices of the Park Falls American Legion Post.
For his family in Illinois, a visitation service and interment will take place at Memory Gardens in Arlington Heights, IL.  Please contact Dan's son Mike Koch at Koch.Mike@Comcast.net or 224-234-9050 for details on the date and time.
Birch Street Funeral Service is assisting the family.