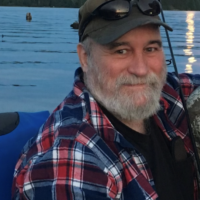 Mark A. Sales, age 60, of Park Falls, died on Saturday January 8, 2022 at Marshfield Medical Center in Marshfield.  He was born on April 5, 1961 in Park Falls, the son of Glenn and Bettejane (Young) Sales.  After graduating from the Park Falls High School he worked for the Flambeau Paper Mill until his retirement.  Mark was a member of the Masonic Lodge and enjoyed hunting, fishing, and most of all spending time with his family and friends.
He is survived by his (2)sons: Dustin (Becca) Sales of Blaine, MN and Josh (Alyssa) Mayville, (2)grandsons: Reid and Emmett, his companion Jen Bergemann  of Park Falls, (2)brothers: Myron (Deb) Sales of Park Falls and Glenn (Christie) Sales of Butternut, and many nieces, nephews and other relatives and friends.  He was preceded in death by his parents, his brother Michael, sister Bettejane, and infant brother Jonathon.
A memorial service will be announced at a later date.
Birch Street Funeral Service is assisting the family.