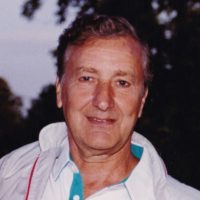 Lawrence Ciero, 93, passed away on January 9, 2022. Larry was born December 25, 1928 in Chicago, Illinois to Angelo (Mike) and Ida Ciero.  He was one of 11 children brought up in Chicago. Larry served 3 years in the United States Army and was stationed in Germany.
Larry worked 42 years at Sears where he met the love of his life, Mildred (Millie) Loula.  Larry and Millie were married on October 5, 1957, and enjoyed 63 years of marriage.
Larry always enjoyed flying, golfing, watching his grandchildren play sports, going to Wisconsin, and spending time with family and friends. He attended Christian Congregation Church and was a devout follower of our Lord and Savior. Larry lived his life as a faithful, loving, kind and humble man and he will be deeply missed.
He is survived by their two sons, Scott (Jayne) and Mark (Julie); 4 grandchildren, Nicole (Cole) Conner, Trisha (Brook) Mueller, Zachary Ciero, Tracy (Jared) Klepac; 3 great-grandchildren, Adaline, Lyla, Bryson; 1 sister-in-law, Becky; and 2 brothers-in-law, John Massillo and Joe (Linda) Loula; and many loving nieces and nephews.
He was preceded in death by his wife, Millie; his parents; and his siblings.
At his request, no service will be held.
Memorials may be made to the Christian Congregation Church.