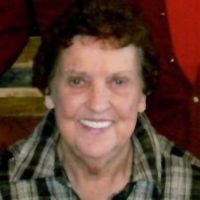 Eleanore G. Olson, age 94 of Park Falls, died Wednesday January 12, 2022 at her home, under the care of Flambeau Home Health and Hospice. She was born on March 10, 1927 in Two Rivers, the daughter of Carl and Mary (Palakovich) Hartway.  Eleanore moved to Park Falls with her family at the age of two. She married Clayton Olson on July 12, 1947 in Park Falls.  She was an active member in the community and belonged to many clubs including the Homemakers, Red Hat Society, Glass Club, and Christian Women.  Eleanore enjoyed running the farm with the boys and decorating the home for Christmas.  She loved spending time with family and friends, especially the grandchildren and great-grandchildren.
She is survived by her (2)sons: Gary Olson of Ellsworth and Lawrence (Sharon) Olson of Park Falls, (2)daughters: Shirley Ratzlaff of Park Falls and Marlene (Gene) Ellner of Park Falls, (10)grandchildren, (8)great-grandchildren, (2)step-grandchildren, (6)step-great-grandchildren, (2)step-great-great-grandchildren, and nieces, nephews, and other relatives and friends.  She was preceded in death by her parents, her husband, and their daughter Janice Rose Olson, her sister Joyce Schwartz and (2)brothers: Clinton and Arnold Hartway
Funeral services will be held on Tuesday January 18, 2022 at 11:00am at St. Anthony's Catholic Church in Park Falls.  Deacon Chet Ball will officiate.
Burial will follow at Nola Cemetery.
A visitation will be held on Tuesday from 10:00am until the hour of the service at the church.
Birch Street Funeral Service is assisting the family.