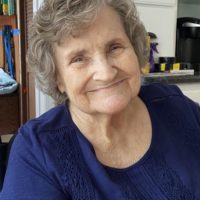 Patricia J. Brandt, age 87, of Pike Lake, died on Tuesday January 11, 2022 at her home.  She was born on October 12, 1934 in Chicago, IL, the daughter of Kenneth and Margaret (McQuaid) Roberts.  On February 8, `1964 she married Daniel J. Brandt.  The couple moved to Pike Lake in 1993.  Patricia worked as a dedicated CNA in hospice care for 30 years at both Alexian Brothers Hospital in Elk Grove, IL and home health and hospice.  She was a member of the Pikettes and The Smashers.  She enjoyed quilting, sewing, gardening, especially flowers, and travelling with the motorhome throughout North America.  One of Patricia's favorite places to travel to was where she spent her honeymoon in Crane Lake, MN, where she and her husband made many fishing trips.  Yellow roses held a special place in her heart and had a deep meaning to her related to her work in hospice care.
She is survived by her husband Danny of Pike Lake, (5)children: Michael Brandt of Tampa, FL, Danny (Linda) Brandt of Portage, Kathy (Derek) Milhousen of Park Falls, Patty (Kevin) Finlon of McHenry, IL, and Jimmy (Lisa) Brandt of Park Falls, (16)grandchildren, (11)great-grandchildren, and many nieces, nephews, and other relatives and friends.  She was preceded in death by her parents, her step-father Eugene Zahn, her son Freddy Brandt, her sister Peggy Manson and brothers Gene and Richard Zahn.
Funeral Services will be held at the Birch Street Funeral Service Chapel in Park Falls on Monday January 17, 2022 at 11:00am.  Rev. Terry Wilson will officiate.
Burial will follow at Forest Home Cemetery in Fifield.
A visitation will be held at the funeral home on Monday from 10:00am until the hour of the service.
A celebration of life will also be held in the summer for both Patricia and her son Freddy.  The date and time will be announced.
In lieu of flowers, donations to Catkins Animal Rescue in Park Falls would be appreciated.
Birch Street Funeral Service is assisting the family.