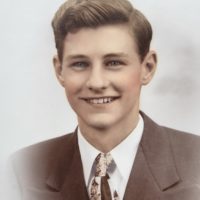 Lyle K. Schroeder, 90, of Phillips, passed away peacefully on May 10, 2022, at his home with his wife and family by his side. Lyle was born on April 21, 1932, to Ernest and Mildred (Wahrenbrock) Schroeder, in Aibile, Kansas.
Lyle was a self-employed sod farmer, hiring numerous high school kids for help. He completed schooling for Agriculture and went on to study accounting – where he excelled at both. Lyle met his future wife, Geraldine "Cookie" Veirauch, in 1981 as they lived across the alley from each other. They married on September 28, 1985. Lyle was a wonderful step-father and he really enjoyed spending time with his family. On their 4th anniversary, they were blessed with a granddaughter. His favorite pastimes were reading and tinkering with just about anything. He liked the challenge of taking something apart and putting it back together.
Lyle is survived by his wife of 36 years, Cookie; three step-sons, Jerry Veverka, Mike Veverka, and Mark Veverka; two granddaughters, Chasity Wells and Sabrina Veverka; three great-granddaughters, Asaisha and Ayanna Wells, and Milana Theilman; and one great-grandson, Kayden Theilman. Many nieces and nephews, Valerie (Lloyd) Parkin, Cara (Grant) Wilson, Rick (Amber) Sell, Keith (Brian) Cravitz, and Craig Sell.
He is preceded in death by his parents; and one sister, Marge.
Per Lyle's wishes, no services will be held. Heindl-Nimsgern Funeral Home is assisting the family.