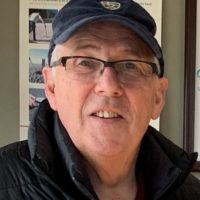 Robert "Bob" F. Martin Sr., age 79 of Butternut died on August 30, 2022 at Marshfield Medical Center in Weston.  He was born on October 11, 1942 in Portland, Maine, the son of Joseph and Avis Martin.  His early life and schooling were in Falmouth, Massachusetts.  After graduation, Robert pursued a degree in education at the local community college then he spent one year studying at Culinary Institute of America in New Haven, Connecticut .  During his studies he was drafted to the U.S. Marine Corps, where he served his country for four years.  Bob completed his studies at UW Stout earning his Bachelor's degree in Hospitality Management and his Master's degree in Education.   On October 28, 1978 he married Lynn VanRossum in Appleton, Wisconsin.  He taught at Waukesha County Technical College in Pewaukee for some time before becoming the Vice President  of Fox Valley Technical College in Appleton. He then moved to the Northwoods and served as Director at North Central Technical College in Phillips for ten years before retiring. Bob was heavily active in the economic development of every community he lived in.  He loved helping others and spending time with his family and friends.  He especially enjoyed golfing and hunting.
He is survived by his wife Lynn of Butternut, (2)children Bobby "Jazz" Martin of Chicago, IL, Jennifer Lynn Martin of Butternut, (1)granddaughter Amaya Martin, and his dog Paddy.
He was preceded in death by his parents, (3)sons: Mark Joseph, James Anthony, and Jason Dean. (1)granddaughter Anna Lynn Martin.
A Memorial Mass will be held at 11:00am on Saturday September 10, 2022 at St. Anthony's Catholic Church in Park Falls.  Fr. Shaji Pazhukkathara and Deacon Chet Ball will co-officiate.
A visitation will be held at the church from 10:00am until the hour of the service.
In lieu of flowers, donations may be made to St. Jude's Children's Research Hospital.
Birch Street Funeral Service is assisting the family.