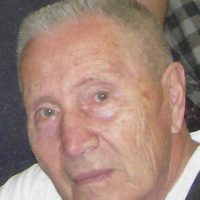 Robert Anton Pospichal Sr., age 96, of Park Falls, formerly of Butternut, died on Friday September 16, 2022 at Park Manor
Nursing Home in Park Falls. He was born on May 9, 1926 in Butternut, the son of Anton and
Lillian (Canik) Pospichal. His early life and schooling were in Butternut. Robert was a veteran of
the United States Navy serving during WWII. On August 9, 1947 he married Clara M. Ubert in
Chicago, IL. The couple lived in Chicago where Robert worked for Sunbeam electric. They
eventually moved to Round Lake IL where they bought a home, and Robert worked for
Thompson Ceramics until his retirement in 1984 after which the couple moved to Butternut.
Robert worked part time after his retirement for the US Forest Service and was a member of the Butternut American Legion Post and the Happy Dancers Polka Club. He enjoyed the outdoors, hunting, fishing, feeding deer, and making firewood. He loved to Polka dance and spend time with his family and friends.
He is survived by his son Robert (Kathy) Pospichal Jr. of Park Falls, (5)grandchildren: Tony (Terrie) Pospichal, Jaime (Donny) Leicht, Jonathon (Jennifer) Pospichal, Ann Fox, and John (Terri) Lutz, (6)great grandchildren, and many nieces, nephews, and other relatives and friends. He was preceded in death by his parents, his wife Clara, (2)sisters: Evelyn Jirsa and Eleanor Brousil, and one brother: Daniel Pospichal.
A Funeral Mass will be held at Immaculate Conception Catholic church in Butternut on
Wednesday September 21, 2022 at 11:00am. Fr. Shaji Pazhukkathara will officiate.
Burial will follow at St. Cecelia Catholic Cemetery in Butternut with military honors under the
auspices of the Butternut American Legion Post.
A visitation will be held at Birch Street Funeral Service in Park Falls on Tuesday September 20,
2022 from 5:00pm until 8:00pm with a Prayer Vigil at 7:00pm and on Wednesday at the funeral
home from 10:00am until 10:30am. There will be no visitation at the church.
Everyone is invited to join the family for a luncheon immediately following the burial at the
Immaculate Conception Catholic church.
Birch Street Funeral Service is assisting the family.